Just a slice of life from my stereo store in my home in St. Louis MO. I'm no Music for Pleasure or Sound Room but I do a nice job for my clients.
Buyer report on Vincent integrated amp
I sold my demo SV237 amp (hybrid tube/solid state 150 watts x 2) to my friend Al. He buys and sells high-end audio, so he hears a lot of gear, and is a source of trusted opinion. He said that the SV237 is the second best integrated amp he has heard. The the best was a $12,000 amp, so that's not a bad showing for a $2400 amp. Nevertheless he still prefers the Vincent separates – the discontinued SA-T1 preamp and SP331 power amp.
New Tube Trap announced
Acoustic Sciences Corp, inventors of the Tube Trap, have a new IsoThermal Tube Trap design that is even more absorbent of low frequencies – the IsoThermal Tube Trap. If you have any glimmer of science in your being you might want to read about it at this link http://www.acousticsciences.com/search/node/isothermal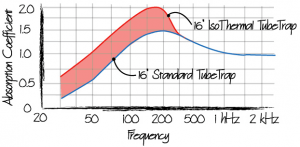 ASC Tube Traps are a guaranteed way to improve the sound of a system. They are pricey, but they work, and they don't wear out or become obsolete. They stay in the room as your components change. As an ASC dealer I can order them for you and get you a small discount (small because they are not a high-profit product). Right now there is a factory direct sale of show demo traps. You can find it at the bottom of the page of http://www.acousticsciences.com/search/node/isothermal
A satisfied GoldenEar customer wrote me:
Just wanted to let you know I am enjoying my Triton 7s and Bel Canto C5i. They are a great combo – very well matched. I'm glad I chose the 7s as I believe the 5s would have definitely overpowered my room in the bass region. In fact, even the 7s can be a bit much compared to the Spendors if the recording is bass-heavy. While not a cube, the difference between room width & length is not as great as I'd like, though this is helped a bit by a 6' opening to the dining room behind it.
The Spendors have been sold (I ship them tomorrow). I suspect I'll also end up selling my Image Audio tube amp, but haven't decided that for certain. Will shoot you details when we get to that point.
Thanks for a smooth sale for some excellent equipment.
Wylie's note – He has a well respected tube amplifier but is probably going to sell it and use the Bel Canto C5i integrated amp instead. I point this out because Class D amps have a poor reputation for being too clinical. But Bel Canto amps are an exception to that rule.
Problem with previous newsletter –
The link to the Digital Trends review of the Triton Five didn't work. The one below works. It includes a good video by the reviewer
http://www.digitaltrends.com/speaker-reviews/goldenear-technology-triton-five-review/?utm_source=Digital+Trends+Triton+Five+Review+-