My wife wanted a nice stereo in the kitchen. She wanted FM radio, a CD player and access to the network for iTunes, Internet radio and Pandora. She also wanted to preserve all her cabinet space. I really wanted to get it for her. A dozen schemes came and went, all scuttled by lack of space and my wife's dislike of wall and ceiling mounted speakers. I found only one little bit of free space – a 5″ x 25″ slot over the microwave. That was my 100 square inches. My solution was a Marantz network receiver and Gallo Acoustics speakers.
The receiver is the Marantz M-CR603 micro receiver, with AM/FM, CD player, network capable, 40 watt per channel digital amp section for cool running. ($699 retail) There have been many less-than-full-size components introduced over the years and most have failed in the USA "bigger is better" marketplace but with the digital revolution smaller components are becoming accepted. Certainly my Bel Canto Design DACs and amplifiers are small in size but giant in performance. To see where the Marantz ranked I looked for reviews and found that British magazine What-HI*Fi had rated it 5 Stars. Here is is some of their review:
Best micro system £400+, Awards 2011. Great to use, listen to and live with, this Marantz micro is a high-tech marvel
For
Lovely looks and great usability
will play music from almost anywhere
cracking detail and rhythmic precision
Against
A slight faff to add AirPlay
no wi-fi 
For speakers I chose the new Gallo Acoustics A'Diva SE ($329 each), just arrived at Gallo this month. The A'Diva SE has a much larger magnet than the previous A'Diva, and a flat honeycomb cone. As much as I admired the previous A'Diva Ti, I found the SE to be a clear improvement.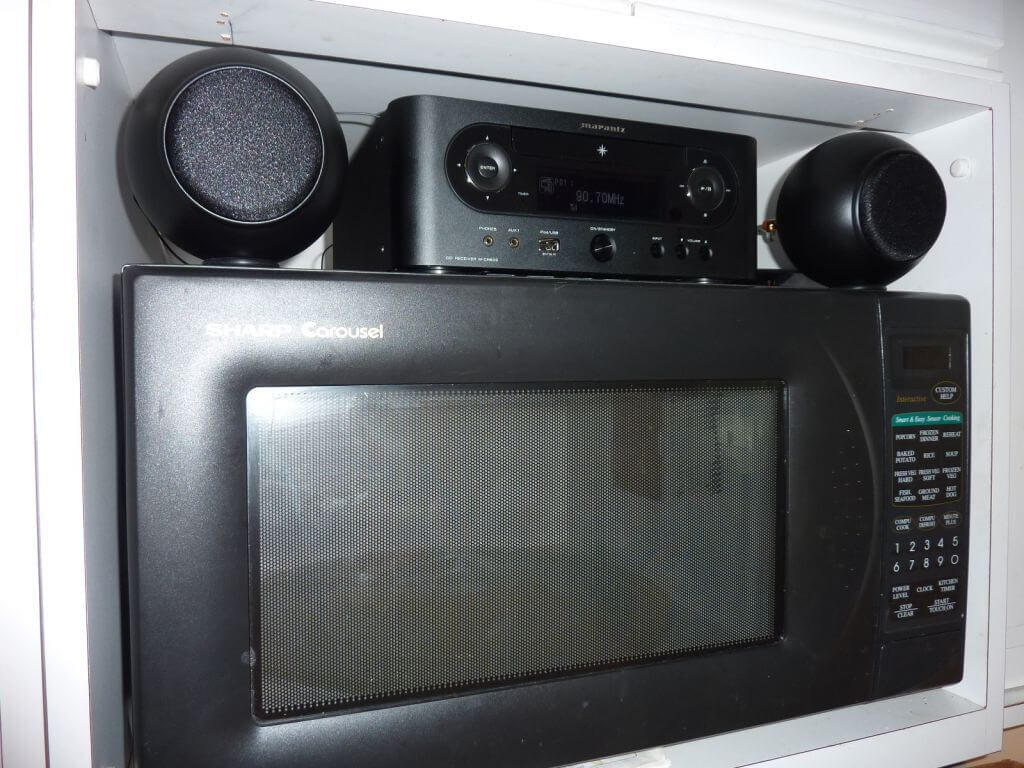 Let me take a moment to speak well of the Gallo spherical speakers – all of them. As a single driver in an acoustically perfect cabinet they have always been an incredibly good audiophile speaker for music and home theater. But they don't get the credit they deserve because of three problems:
They look too small for people to believe they are good.
People think they cost too much. (If the label said Bose they would sell like hotcakes, but that's the power of the name brand, isn't it?)
They usually need a subwoofer to handle sound below 100 Hz. I couldn't find a sub that would fit my kitchen space so I just used the bass boost circuit in the receiver and the sound is pretty good in the upper bass and very good from 100 Hz up. My wife is very happy, and I am a hero for giving her the stereo she wants.
Yes, I am a Marantz dealer, and a Gallo Acoustics dealer.
Wylie Williams